Call. Text. Email.
Forget about gmail and landline calls.
Use centralized place for all customer communications.
Use a laptop or pc to make and receive customer calls, texts and emails.
Allow all of your employees to communicate with your customers from one place. One business phone number, one email address.
First 3 months free. No card required
Pay as you go
Have unlimited agents/employees access the platform. Only pay when customer calls you, 1 cent per minute or text.
Mobility and Remote Operation
Create a diverse team that works from home, office or even a beach. Hire remote or even overseas teams to handle customers communications.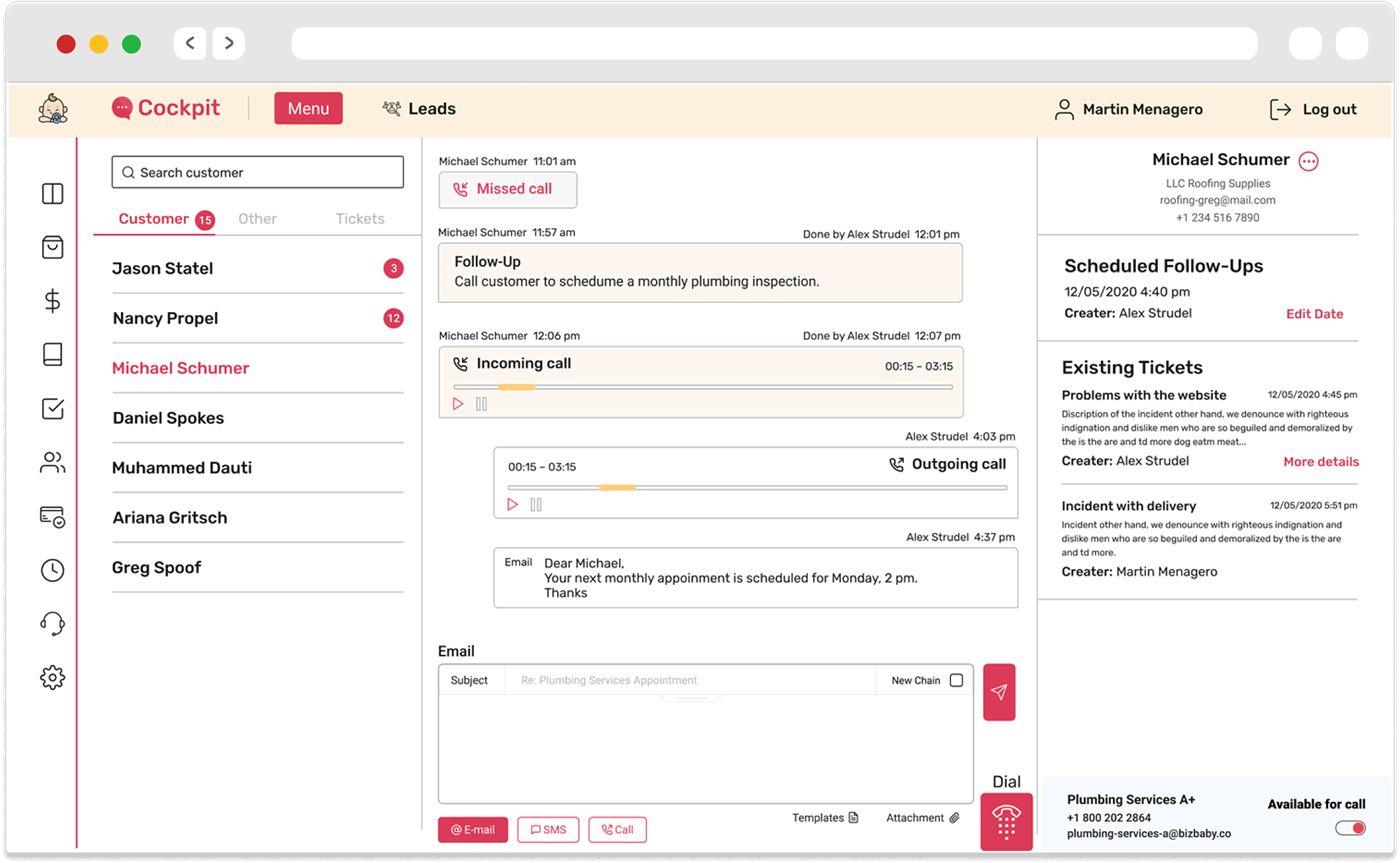 Follow-Ups
Set a follow-up notification to be reminded to contact customer or lead. Give them an update or schedule an appointment.
Call Recording and Voicemails
Every phone conversation is recorded. Every voicemail is captured and can be played back at any time.
Ticketing System
Create tickets to handle customer issues and incidents.
Leads - New Customers
Cockpit has a powerful leads gen and sales system. Capture leads from calls and emails. Make sales calls and track your progress.
Email and Text Templates
Make your communications more efficient with creating custom templates, that can be sent via Text or Email.
Block Unwanted Callers
Easy blocking feature allows you to reject all incoming calls from unwanted contacts. Texts and emails will be marked as spam.
Powerful Greetings System
Upload your own greetings to welcome your customers, tell them you are closed or let them listen to a beautiful music while they wait in line.
Call Center Statistics
Know how many calls or messages each of your team members completed. What was their handle rate and wait time. When they started and when they finished.
Try BizBaby for free
First 3 months free. No credit card required.